Layered Italian Zuccotta strawberry pie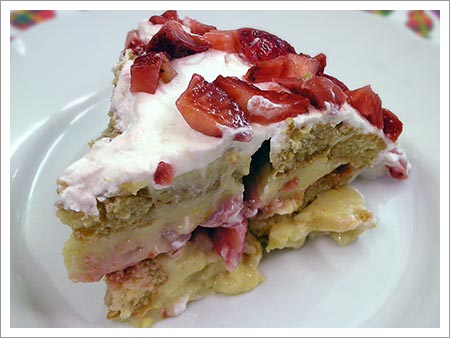 Medium

8 to 10 portions

1 hour + 2 hours to cool in fridge
350 gr strawberries – 200 gr savoy biscuits – 300 ml whipped cream – splash of slightly watered down Marsala with sugar. Incredients for the custard: 4 egg yolks – 250 ml mild – 50 gr plain flour – 100 gr sugar – vanilla pod.
Convert european unity of measure
Heat the milk with the vanilla pod. In the meantime beat the egg yolks and fold in the sugar and allow to thicken slightly, add flour and continue beating. As soon as the milk comes to the boil remove the vanilla pod and pour the milk onto the yolk mix placing over a medium flame or hob. Simmer for 5 mins stirring often. Remove from heat and leave to cool.
Whip the cream. Prepare the Marsala in a bowl with a little sugar and water.
Line a salad bowl with cling film. Quickly dip the savoy biscuits in the Marsala, shake off the excess liquid and make a layer of them in the bottom of the salad bowl.

Spread a layer of custard over the savoy buscuits, cover with a layer of chopped strawberries and add another layer of biscuits. Add a second layer of custard and strawberries and finish with a final layer of biscuits on top.

Leave to rest in refrigerator for at least a couple of hours.
Tip the whole out onto a plate, remove the cling film, and layer the top with a spreading of custard and whipped cream. Finally garnish with the remaining strawberries.