Fettuccine and creamed cheese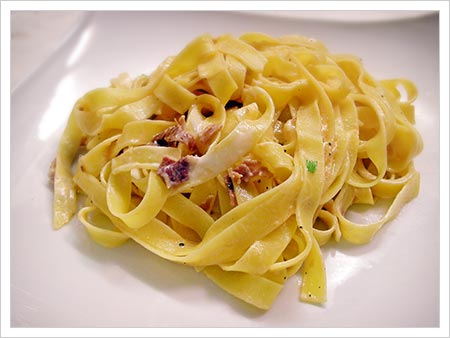 300 grams fettuccine pasta 50 grams cooked parma ham (chopped into one and a half cm. squares) 50 grams parmesan cheese - 150ml single cream - 3 dsp Italian tomato sauce - 50 grams butter - chopped parsley.
Convert european unity of measure
Put a saucepan of salted water for the pasta to boil. When boiling add the pasta and follow the cooking time indicated on the packet.
Meanwhile melt the butter in a frying pan, then add the ham. Lightly cook the ham, without letting it brown, add half the cream and the 3 dsp of tomato sauce.
In a bowl dilute the remaining cream with some of the water used for the pasta and stir in the parmesan.

Drain the pasta and fold in the ham and tomato sauce. Turn out onto a large serving dish and pour over the diluted cream and the chopped parsley.

Mix one more time before serving.
Bon appetit!